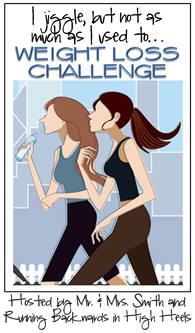 Let me just start by saying that I did not exhibit very much self control this past week. We had a Bridal Shower for one of my best friends on Saturday, Sunday I spent all day with the youth at my church and had no control over what meals we ate. Monday started my week with good intentions, but quickly I went downhill. I didn't necessarily eat terribly all the time, but I definitely had more than my fair share of not-great for me food.
All that to say that when I stepped on the scale this morning, I was fully expecting to have gained some weight. I did manage to not gain, I lost 0.4 pounds since last Thursday. Not a great loss, but heading in the right direction.
I can tell you that the only reason I lost any is because I did much better with my exercise this week than usual. So while I didn't necessarily work very hard toward my weight loss goal, I did make some other big strides. I have said before that I really don't enjoy running. At all. But I also know that it is one of the easiest and quickest ways for me to burn calories and drop pounds. So I tried to get back on my running program this week. Building up to yesterday when I ran 2.25 miles consecutively--which is more than I have ever run at once. I actually could have kept going, but didn't have enough time. I'm not running very fast, but am sticking to a good pace that is faster than my first miles a few weeks ago were... and I figure by extending my distance I will someday maybe be able to pick up the pace!
For now, I am sticking the treadmill instead of running outside. As much as I would love to run outside, I am terrible at pacing myself... so while I am still getting started I need the treadmill to help with my pace. I think I kind of figured out why it helps so much too (because I should be able to pace myself regardless haha). Like I said, I don't enjoy running... so when I start, I just want to be done. Which means that when I am outside and running a certain distance, I will go faster to finish but end up not having the endurance needed to finish strong. When I get on the treadmill I pick my pace and my distance so I know exactly how long I will be running. So I just have to do it and stick with it and go that amount of time before I can be done, no matter how fast I go.
Anyway, that was my week! Hopefully I can do a little better with the eating plan this coming week and continue to exercise well and continue to head in the right direction!