A few of the bloggers I read have a link-up every week of Friday Favorites. And these past few weeks have had so many little moments and fun things that I thought I'd share some this Friday.
1. I got to spend last Saturday with one of my favorite people--my Grandpa. Unfortunately, his health is declining pretty quickly and so he made the decision last week to bring in Hospice care. He's been sick off and on for several years and in the past year has had a few hospitalizations that have knocked everything out of him. Obviously, this news is far from one of my favorite things, but we had a really awesome visit with him last weekend. David and I went along with my mom and my brother's family to visit. My grandpa is doing a lot of resting right now, but he was awake for a good 45 minute- hour long stretch while we were there and he was engaged in our conversations, enjoyed getting to meet my niece (his newest of 9 great-grandchildren), and had fun watching my nephew play football. It was a really good day with him. Prayers for our family would be appreciated in the coming weeks-- we don't really know how long he has left, but they aren't thinking very much longer. He's at peace and ready for what's next, but it's a bittersweet time for us as we say goodbye.
A picture of me with my grandpa at my cousin's wedding in December
2. And speaking of favorite people, I also got to spend a lot of time with this kid over the past couple of weeks:
We celebrated my mom's birthday 2 Sundays ago and Chase entertained us with his renditions of Rudolph the Red Nosed Reindeer and ABCs. Then on Friday my mom spent the day with him, so I joined them for a trip to the Children's aquarium. We found all the Nemo and Dory fish and then he posed for a picture with the sting rays. When we went to visit my Grandpa on Saturday, we spent a lot of time exploring the "forest." My grandpa lives with my Aunt and Uncle and they have quite a bit of land with trees. Chase had his dad and I running from and fighting the bad guys. Brought back lots of memories of playing with my cousins at their house!
3. And of course my "people" (dog included)
We took advantage of the first bit of sunshine we'd seen in a while and tried out our new rocking chairs on the front porch Wednesday night. I read while David and Lily played. I know this will be one of my favorite places this Spring.
4. A random surprise of the week was being selected to be on the book launch team for
Jen Hatmaker's
new book
For the Love
. Jen is one of my
favorite
authors and bloggers. I read her book
Interrupted
several years back and it has been one of the most influential books I've read. She posted on Facebook last week that she was taking applicants for her book launch team-- I almost didn't apply because I figured there's no way I'd get picked, but I went for it anyway. On Monday she posted that they had 5000 people apply for 500 spots, so there went any chance of being one of the 500. But as I was leaving work on Tuesday, I opened my email to find an email saying I was on the launch team!
So I was given a digital copy of the book and a hard copy is being mailed to me. And I am part of a "secret" Facebook group with all of the other members of the team. Right now there hasn't been a whole of direction other than read the book and wait for the next instructions. So I've read the first couple of chapters and it's already really good--I'm waiting until I get the hard copy to dig in more. I'll definitely be posting more information about it as time goes by. The subtitle of the book is Fighting for Grace in a World of Impossible Standards, and I can tell it's going to be a much-needed message for me! It's just exciting to get to be a part of this!
5. Speaking of fun books, another one of my
favorite
authors is Melanie Shankle (aka
Big Mama
). I read her blog and I've read both of her books. Her first book was a memoir about Motherhood and her second a memoir about Marriage. Both were fun, but I'm really looking forward to her next book, which is a memoir about Friendships! It comes out in April, but this week she posted this quote from the book: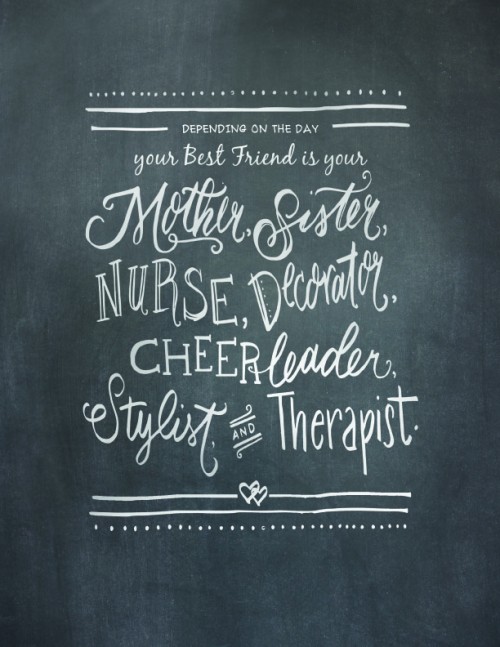 I immediately sent a picture to my best friend
Erin
, because just the night before I had asked her for random medical advice and she was my nurse :) It also made me think of the times I've sent my friend Nicki pictures of outfits I'm trying on to have her help me decide (from another city or even state) what I should buy. I'm blessed to have some really awesome friends. And I love all of the stories Melanie shares about her life with her BFF Gulley, so I'm sure I'll enjoy this book.
It has been a long, crazy, up-and-down kind of week. But I'm grateful for all of the little moments to remind me of God's grace and blessings amidst a somewhat hard week.