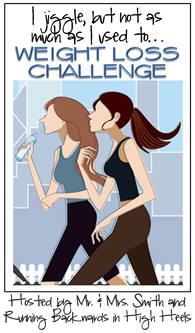 This week I lost .5 lbs. That is a .33% loss since last week, 2.76% loss since I started this challenge 4 weeks ago, and 22.31% loss since I first started my weight loss journey!
I was gone all weekend and not in control of my menu, so I got a little off track, but was able to re-focus when the week started. I didn't run much this week, but was able to make it to both my Step Aerobics and my Kickboxing Classes so it was nice to workout in ways that I really enjoy!
Another fun addition to my week is my new bicband from my friend Nicki!
I wore it to the gym Monday and Tuesday for my classes and then yesterday morning when I jogged. It is
amazing!!
(

now if only I would wear pants that fit, I could have actually finished my run as planned yesterday instead of constantly having to pull at them and just giving up to do weights!)
That was my week in terms of weight loss. Glad that it's going in the right direction, even if it is at a slow pace! Hopefully within the next week I'll be back to where I was when I reached my goal last Fall and I can work off those last few lbs!