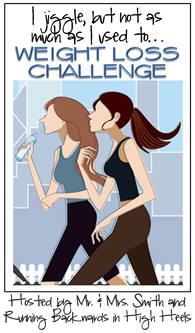 I am posting today because I will not be home tomorrow to weigh myself, so I went ahead and am going to use my weight from this morning.
As of this morning I had lost 1.5 lbs since last Thursday!
Weight: -1.5 lbs
% lost since last week: .99%
% lost since challenge began: 3.72%
And as of this week I am officially below my weight from when I met my "goal" last Fall!! I am so excited to have finally broken the 150 barrier (even if I am still close to it, it feels really good for 14 to be the 1st 2 numbers of my weight!). Only a little more to go before I reach the goal I've had set for myself for years that has always felt unattainable.